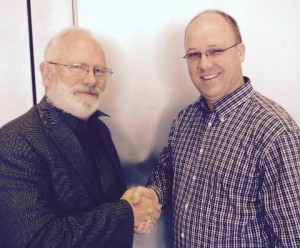 On April 27, 2015, the board of ARM Ministries met in Chicago. A decision was excitedly reached to ask God's blessing on the next phase in the history of our organization. Alan Mezger, the founding President of ARM Ministries, retired from the presidency to accept the newly formed position of President Emeritus while Reid Kisling was unanimously confirmed as President. The board had a wonderful time of prayer, commissioning Reid with laying on of hands. This marks a period of extended planning and prayer for a successful transition and everyone is excited about the direction for the future of serving the church as it sends men and women who will spread the Gospel around the world.
Of the transition to the new position, Reid stated, "I am humbled to step in at this time to lead ARM Ministries as we seek to support the church to accomplish the Great Commission. I am grateful for the leadership of Alan Mezger as the founder of this organization and look forward to continue working with him and others in the days and years ahead. I too believe strongly in our mission. The transition from a founder can either go well or poorly; I thank God for the unity that we have on the board, the great friendship I continue to have with Alan, and for the healthy position in which he leaves the organization after his time as chief executive. The excitement of the board about our renewed emphasis and potential to serve the church worldwide was apparent at our recent meeting. We are in a great position to continue to serve our current missionaries, workers, and partner churches and to collaborate with new partners in the days ahead."
Meet Our President
Reid Kisling has been involved with ARM Ministries since it was founded. Reid served as a founding board member until 2012 when he joined the staff to serve as VP of Development. His wife, Carrie, also has a role, serving the administrative needs of our workers including receipting of financial contributions. In addition to supporting the efforts of others spreading the gospel around the world, Reid also has a heart to help the Church understand its responsibility to partner with workers in the proclamation and manifestation of the gospel worldwide.
Reid and Carrie have been married for 22 years this summer. They have one boy and three girls, ages 12 through 18. The Kislings live in the Pacific Northwest of the USA, where Reid also serves as administrative faculty at Western Seminary in Portland, OR. Reid holds a ThM from Dallas Seminary (1997) and a PhD in Organizational Leadership from Regent University (2007). While Carrie has her degree in Elementary Education, she has found that she is called to focus her energies in the home and use her gifts by serving ARM in her current administrative role. Reid has served in the ministry of theological education for over 18 years. He has also served in the church in many roles; including elder, missions leader, and pastor; he continues to serve as an non-board elder at Grace Baptist Church, Newberg, Oregon.
Meet Our President Emeritus
Alan and Dianne Mezger have been missionaries since 1982 when they served in church planting in Mexico City with CAM International. Alan, a graduate of Dallas Theological Seminary (1978), served as the founding pastor of Lake Almanor Community Church in California prior to beginning international work.
Again in the late 80s to early 90s Alan was a pastor in Klamath Falls, Oregon before returning to missions as the executive head of TIME Ministries (Dallas, Texas) in 1992, where they worked exclusively in Latin American countries. Expanding to a global vision he founded ARM Ministries in 2002.
Additionally in education Alan has a B.S. from Oregon State University in 1974, some additional work in Latin Cultural work at the University of Mexico in 1983, and doctoral work in Missiology from Western Seminary from 2011 to present.
Alan and Dianne have three grown children and seven grandchildren. They currently attend and serve in the global Anglican Communion with their church in Dallas at the Chapel of the Cross, a member of the Reformed Episcopal Church and the Anglican Church of North America.