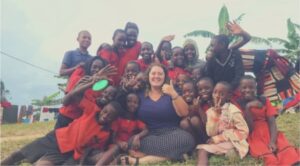 Faith is returning to work with the Uganda Kids Project in May 2023. The vision to tutor students with dyslexia was sparked when she was there in 2022; this time she returns with the use of the Barton Tutoring Program. When there previously, she saw in kids similar struggles that she had as a kid. She will be taking kids through the intensive 10 level program.
As Faith prepares for her return, she is seeking people to partner financially on the following:
Each Barton Tutoring book cost $350 a piece (she is seeking 10 people to support her by purchasing one or more books)
The cost to live in Uganda is $530 a month (she is seeking a couple people who are willing to commit to one year of monthly donations)
There are a few up front travel fees that cost $3000 (one time donation of any amount are appreciated)
Prayer Requests:
For safe travel
For the kids who will be learning and participating in the program
For financial provision
If you would like to support Faith's work with ARM Ministries please click here.