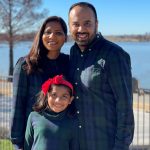 Joytish (Joy) and Janice are from North India. Joy grew up in a Sikh home. His father's death when Joy was nineteen thrust him into a downward spiral with wrong choices, company, and decisions. Joy was ready to quit everything, even life. At the age of twenty-one, Joy's then-colleague and friend—now the love of his life—Janice, shared the gospel with him and he found all his deepest desires met in Lord Jesus. In 2004, Joy became a follower of Christ. Janice grew up in a Catholic home. But after her mother's commitment to Christ Janice was led to follow Christ, seeing her mother's faithfulness, at the age of thirteen.
Both Joy and Janice desired to serve the Lord in pastoral ministry before they got married in 2006. But both of them continued to work in the corporate sector, steadily climbing the success ladder until God finally opened a door for them to study in a Bible school in Adelaide, South Australia. They were blessed with a daughter, Isabella (Bella), in Australia. Joy completed his Bachelor of Ministry in December 2014 and joined his home church in Delhi as an associate pastor. Janice began working in a Christian missionary school in Delhi and led women's ministry at their church. After leading several ministries for almost four years both Joy and Janice saw the need for further equipping to fulfill their desire and passion to plant churches and train pastors to effectively preach the word. God flung open a door to come to Dallas Theological Seminary for the Master of Theology program. Joy is graduating in May 2021 and their home church in Delhi has requested them to come back and be the lead pastor of the church. Their church is primarily built up of professionals and students. Being from a corporate background both Joy and Janice are passionate to see people connect the dots of faith and work. Joy is scoping out universities for a distance Ph.D. program to be able to formally teach in India and other under-resourced countries as an adjunct or on a need basis. Janice has taken several counseling courses and desires to see restoration in individual and married lives. She aspires to partner with Joy in strengthening marriages and setting a strong foundation for pre-marital couples.
Their vision is to seek the shalom of the city (Jer 29:7) where God has them by planting churches, equipping pastors and leaders to preach the word correctly and effectively, and equipping professionals and students to live a life of excellence by bringing their faith to work.
If you would like to donate to Joy and Janice's ministry with ARM Ministries please click here.