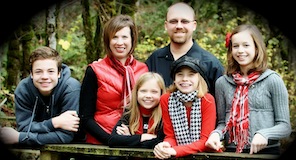 Reid and Carrie Kisling have been involved with ARM Ministries since it was founded. Reid served as a founding board member until 2012 when he joined the staff to serve as VP of Development. He began his role as President in 2015. Carrie also has a role, serving the administrative needs of our workers including receipting of financial contributions. They have a heart for supporting the efforts of others to be involved in spreading the gospel around the world, often in a non-traditional way. Reid also has a heart to help the Church understand its responsibility to partner with workers in the proclamation and manifestation of the gospel worldwide.
Reid and Carrie have been married for 24 years. They have one boy and three girls, ages 14 through 20. The Kislings live in the Pacific Northwest of the USA, where Reid also serves as administrative faculty at Western Seminary in Portland, OR. Reid holds a ThM from Dallas Seminary and a PhD in Organizational Leadership from Regent University. While Carrie has her degree in Elementary Education, she has found that she is called to focus her energies in the home and use her gifts by serving ARM in her current administrative role.
Reid has served in the ministry of theological education for over 20 years. He has also served in the church in many roles, including elder, missions leader, and pastor. Carrie enjoys the ministry of serving her family, as well as being involved over the years in teaching Sunday school and leading in Women's Ministry.
Prayer Requests:
That God would provide opportunities to communicate the Church's role in world missions to the body of Christ and that He would inspire churches to partner with workers in Gospel-centered service around the world
That God would sustain the organization as we continue to serve the needs of our workers
That the Kislings would develop lasting relationships with prayer and financial partners so they can fully engage in the work of ARM Ministries
Reid and Carrie's personal ministry blog can be found at http://thekislingconnection.blogspot.com. If you would like to support the Kisling's ministry with ARM Ministries please click here.