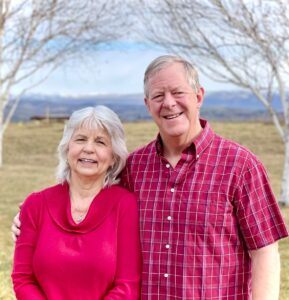 Greg and Ruth Jochen have three passions in serving the body of Christ. First, is to see Christians connect with the Lord through a deepening, and ongoing abiding relationship with Jesus. They have seen the need to equip fellow Christians to more fully understand this abiding relationship so each one can glorify God, become more fruitful in doing the works of God. They seek to train others through conducting interactive workshops in which participates learn what it means to abide in Christ, how each participant can cultivate a deeper and more fruitful abiding relationship with Jesus, and how their abiding relationship with Christ can empower them to actively love and serve fellow believers and to love and lead unbelieving people to Him.
Second, they have a heart to mentor younger Christians so these can become more fruitful and effective in serving and leading others to Christ. They served with Great Commandments Ministries in Tieton, WA for five years in which they both mentored incoming students, and others around them. They have seen the need in local churches to equip more believers to mentor younger Christians in a mentoring relationship. Currently, they are developing a mentor's handbook to provide an easy-to-use resource to better equip mentors to disciple others. They also plan to provide workshops to equip believers on how to disciple younger believers one-on-one.
Third, they love the body of Christ, and want to help cultivate greater oneness among fellow believers in response to Jesus' prayer in John 17:21  "that they may all be one; even as You, Father, are in Me and I in You, that they also, may be in Us, so that the world may believe that You sent Me."  
Greg did his doctoral work in discipleship, and developed a city-wide strategy to "Unify and Mobilize Granger Churches for Effective Disciple-making." This project sought to cultivate greater oneness among Christians so that the unified body would be more fruitful in making disciples together from the people within and around the city. Therefore, Greg and Ruth seek to come alongside churches, and fellow Christians in order to help them cultivate greater oneness among Christians in their area so they all can make more disciples of Jesus from among the people of their communities.
Greg holds a MDiv in practical theology, a ThM in New Testament, and a DMin in Discipleship. He has served in the body of Christ as an elder, prayer coordinator, mentoring coordinator, pastor, and teacher. Ruth holds a Bachelors in Elementary Education and Reading and has served in children's ministry, taught in a Christian school, home schooled, and mentored many young women.
Greg and Ruth have six children and have been married for 38 years.
If you would like more information and/or would like them to conduct a workshop, please contact them at gjochen@outlook.com or call (509) 830-5176.
If you would like to support Greg & Ruth's ministry with ARM Ministries please click here.