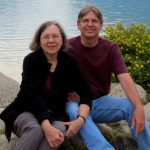 After Jay and Michele were married in 1989, God gave them a heart for the nations and eventually led them to Columbia International University in South Carolina to prepare for cross-cultural ministry. While in seminary they became involved in international student ministry. After graduating in 1998, they returned to their undergraduate alma mater (Virginia Tech) to serve among international students and scholars in Blacksburg.
The Lesters' ministry includes leadership of the International Christian Fellowship (ICF), and various other activities for international students, scholars, visitors and residents. Ministries include International Women's Connection; ACROSS and other social and recreational activities; retreats; Bible studies; and personal counseling, evangelism and discipleship.
If you would like to support the Lesters' ministry with ARM Ministries, please click here.